And the nominees are ...
Private or Corporate Lawyer Category:
Juliet Bourke
Partner with Aequus Partners. She began as a lawyer with the Commonwealth Director of Public Prosecutions before switching to discrimination law, working for HREOC and then the NSW Attorney General's Department. Juliet now works with leading organisations to develop and implement organisational change strategies to promote equity and diversity. Juliet is Chair of the Taskforce on Care Costs, Chair of the Equal Employment Opportunity Network of Australia and Executive member (and immediate past President) of the NSW EEO Practitioners' Association. Juliet has lectured in discrimination law at Sydney University and in management at UNSW. She is recognised nationally and internationally as an author and speaker on diversity, flexibility and gender equity. Juliet is the author of Corporate Women, Children, Careers and Workplace Culture (2000, UNSW) and co-author of Age Discrimination: Mitigating Risk in the Workplace (2005, CCH).
Sandra Hale
Admitted to practice in 1985. Originally a sole practitioner, she is now a partner at Redmond Hale Simpson, Kogarah. Sandra undertook mediation training at Bond University and Harvard. She was appointed to the Supreme and District Courts, ADT and Law Society Mediator Panels. She gained Specialist Accreditation in Mediation and in 1994 was appointed part time Judicial Member, ADT (Legal Services Division). Also in 1994, she gained Specialist Accreditation, Family Law. In 1998 she was appointed Costs Assessor and was subsequently appointed to the Costs Assessor's Rules Committee. In 2000, she was appointed District Court Arbitrator. She was the first female president of the St George/Sutherland Regional Law Society and was subsequently awarded life membership. In 1998, she was awarded the Paul Harris Fellowship (Rotary) and in 2001 the St George District Community Service Award for volunteer services to the community.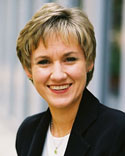 Laura Hartley
Became a partner at Dibbs Abbott Stillman in 1995 aged 30 and the second female partner of the firm. She was the only female member of the firms' inaugural Board and headed the Commercial Department from 2001 to 2003. She was listed in the inaugural edition of "Who's Who of Australian Women" in 2006. She was the first partner of the firm to work from home 1 day per week and has been doing so for the last 10 years. She was the first partner to have part-time lawyers working for her and championed lawyers working 2 days per week at the firm rather than the industry-standard of 3 days per week. She managed the first job share between female lawyers in the firm. She has had lawyers working part-time in her team since 2000. She currently has 2 senior associates in her team working 2 days per week each. She was instrumental in introducing the paid maternity leave policy of the firm in 2006.
Stephanie Pursley
A champion for significant organisational change for women, mentoring, and inspiring many women at all stages of their careers - through her role as Chair for the 'Women at Freehills' initiative, and being a courageous advocate for flexibility and diversity. Her advocacy was key in assisting Freehills to achieve the Law Society's special award for flexibility in the workplace in 2006. In 1994 Stephanie established the 'Women in Business' networking forum in 1994, providing opportunities for senior business women to meet and exchange views and knowledge. The Freehills Women in Business network has now grown to around 700 women in banking, telecommunications, retail, publishing, government, law and the judiciary.
Katrina Sharman
(also nominated for Government & Community)
Corporate counsel for Voiceless, the fund for animals. She is a former Senior Associate at Minter Ellison Lawyers and a former Councillor of NSW Young Lawyers Executive Council. Katrina chaired NSW Young Lawyers Animal Rights Committee for more than five years. Katrina has served on the NSW Government's Animal Research Review Panel and the NHMRC's Animal Welfare Committee. She speaks regularly at animal law conferences and presented at the 'Future of Animal Law Conference' at Harvard earlier this year. Katrina was recently appointed as a 'Big Sister' in the Life Changing Experiences Foundation's 2008 Sister2Sister Program.
Mary-Lynne Taylor
Consultant with Bartier Perry and is a specialist in local government and town planning law. She is an Honorary Fellow of the Planning Institute Australia, Fellow of the Australian Property Institute, Adjunct Professor in Urban and Regional Planning at University of Sydney, Faculty of Architecture. She has served on Law Society sub-committees, Councils of the Planning Institute (regularly lecturing and presenting). She is frequently called upon to judge industry awards. She spent eight years serving on the NSW Heritage Council rising to Deputy Chair and Chair of the Approvals Committee. She started law school in 1964, one of 8 women in a class of 316. She then followed Mary Gaudron and Nerolie Champion as an articled clerk at Charles A Morgan & Co. She was the only female lawyer at Dawson Waldron in the 1970s and their only female associate at Dawson Waldron. In the early 1990's she opened her own practice with Peter Kelso, employing women lawyers wherever possible. During 35 years of practice, she has provided support and encouragement to women lawyers by providing and informal referral service for women lawyers and by actively pursuing the promotion of women wherever possible.
Catherine (Kate) Traill
Barrister specialising in criminal law. She prosecutes and defends, regularly acting on behalf of the DPP, primarily in serious sex offences cases. In 1987, she was one of the youngest females ever to be called to the Bar and has been elected to the Bar Council 17 times since. She set up and co-ordinated the New South Wales Bar Association's Duty Barristers Scheme which provides two barristers a day who act pro bono to assist indigent people and the Courts. Kate is also a great mentor for young female barristers and has had many female readers. Kate also teaches advocacy during the Readers Course and has travelled to numerous other countries, including Bangladesh, to teach advocacy. Kate is an elected Councillor on Mosman Council. She has recently been instrumental in setting a friendship agreement between the Mosman municipality and Liquica in East Timor. Kate has recently been appointed to the Royal Australian Navy Legal Reserves as a Lieutenant.
Kellie Tranter
Established her own legal practice in Maitland in 2003 and is President of Business and Professional Women Maitland and Chair of the Standing Committee on Legislation for BPW International. Kellie participates in the BPW Maitland Mentoring Program for young women in the Maitland area and publicly encourages women to pursue decision making roles in government and business. Kellie ran as an Independent Candidate for the Maitland in the 2007 NSW State Election, putting women's issues on the political agenda. Recently she organised a Federal election candidates' forum to have candidates publicly state their position on women's issues. Internationally Kellie is an active member of the Advisory Committee of APWINC, which promotes the entrepreneurial development of women in the Asian Pacific Region in all aspects of information technology. Kellie has written papers including Womenomics and Equality in Government and Business. Kellie was BPW Maitland 2005 Career Woman of the Year and in 2007 was awarded an Edna Ryan Award (WEL) for Community Activism.
Government or Community Lawyer Category:
Anna Cody
Committed to human rights work, working with disadvantaged communities and helping people to exercise their human rights. She has a particular commitment to women, having set up a domestic violence legal service in Alice Springs representing mostly indigenous women. She has also worked in Latin America in El Salvador, Mexico and Honduras educating poor communities about human rights and particularly women about the law and their rights. She is committed to legal education at all levels and currently works at Kingsford Legal Centre teaching law students to think critically about the legal system and their role within it as future lawyers. Advocating fairer laws is key to her work in Australia and in New York with a human rights organisation.
Margaret Cunneen SC
Crown Prosecutor since 1990 and Deputy Senior Crown Prosecutor since 2002. From 1977-1981 she worked in the Attorney-General's Department Ministerial Office and from 1981-1986 she was an Industrial Officer at the Public Service Board's Legal Branch. From 1986-1990 she was Senior Principal Solicitor at the Office of the Director of Public Prosecutions, heading the Child Sexual Assault Unit. Margaret has a Bachelor of Laws (NSWIT) and a Master of Laws (Syd). She has prosecuted many murder trials and high-profile paedophile and gang rape cases. She has a keen interest in upholding the rights of victims of violent crime and those bereaved by crime and assisting them in their journey through the criminal justice system. She is the mother of 3 teenage boys and has a black belt in Taekwondo.
Geraldine Daley
In practice for over thirty years in a medium sized practice at Kogarah. She is a solicitor advocate, a Cost Assessor and a CARS Assessor. She chairs the Law Society Ethics and Dispute Resolution Committees and the Costs Working Group. She also chairs the Law Society Specialist Accreditation Board. She is committed to non-adversarial dispute resolution. Geraldine has also trained in mediation, negotiation and collaborative practice. She has been privileged to be involved at a committee level with the St George Sutherland Law Society and the Law Society of NSW. She considers that involvement has provided her with an opportunity to network with her fellow practitioners and also many wonderful community organisations such as Lions and the Surf Lifesaving movement.
Jane Sanders
Principal solicitor of the Shopfront Youth Legal Centre, a free legal service for homeless young people in Sydney. The Shopfront is a joint project of Freehills, Mission Australia and the Salvation Army. Jane is an accredited specialist in criminal law and children's law. She appears almost daily in the Children's, Local and District Courts. She is also a member of various committees including the Juvenile Justice Advisory Council and the NSW Law Society Criminal Law Committee. Jane has worked at the Shopfront for 14 years and can't imagine doing anything else. She feels she still has a long way to go to achieve justice for the most disadvantaged people in our community. Fortunately Jane has genetics on her side (she has a grandmother and two great-aunts aged over 100) and expects to be around for a long time yet!
Young Lawyer under 5 years experience:
Louise Camenzuli
A young lawyer in her first five years of practice. Louise specialises in planning, environment and local government law at Corrs Chambers Westgarth and is currently undertaking a Doctorate of Juridical Studies at the University of Sydney. She is Vice Chair of the NSW Young Lawyers Environmental Committee. Louise has provided voluntary assistance to various community organisations, including the provision and facilitation of pro bono services to community legal centres. Most recently, Louise has been awarded an internship in Bonn by the International Union for the Conservation of Nature - Commission for Environmental Law for her research paper on "The development of international law by Multilateral Environmental Agreements' Conferences of the Parties". Louise will undertake her internship early next year.
Julia Grix
Works as a criminal defence lawyer with the NSW Legal Aid Commission. In this role, she has represented the most vulnerable members of our community in every criminal jurisdiction throughout NSW. In addition, she has worked with key rights-related academic, government and community-based organisations both as an employee and as a volunteer. Her contribution to legal policy and law reform is well recognised: she was the recipient of the Justice Essay Prize for a paper concerning women, sexual assault and the criminal justice system which is taught in law schools both nationally and internationally. In 2007, Julia was one of four Australians to win a Fulbright Professional Award. She is currently based in New York, working with young offenders, in collaboration with the New York Legal Aid Society and The Bronx Defenders, to develop a model of best practice to improve the delivery of legal services to young people in Australia.